This is our FIRST BLOG!!! Although it maybe isn't much it really is time you all know what's going on at the moment!!
Black Hand Gun (WIP)
Fz007 has made this gun for us. I think it looks good but take a look yourself
(click for bigger picture)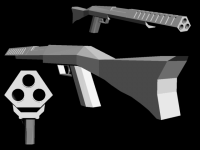 GDI Rifleman Gun WIP
DarthWilson is working on a gun (very likely) to use for the GDI Rifleman. He is also going to texture it! Here is a screenie.
Test Level
LR01 has made a new test level for us. Here are some screenies!
Team Info
I'm having exams next week
The End
The worst part of a whole BLOG